Posts for tag: gum recession
By Sally Farzaneh, DMD, PC
May 08, 2020
Gum recession is a serious oral condition in which the gums shrink back or "recede" from their normal position around the teeth. Because they're the primary protection for teeth below the enamel, this can expose the teeth to infection or cause painful sensitivity. And receded gums most certainly can diminish your smile.
But there are preventive measures you can adopt that might help you avoid this unpleasant condition. Here are 4 things you can do to minimize your risk for gum recession.
Practice daily oral hygiene. The main cause for recession is gum disease, a bacterial infection that weakens gum attachment to teeth. Gum disease usually arises from dental plaque, a thin bacterial film that builds up on teeth. Removing it every day with brushing and flossing minimizes the risk of gum disease and gum recession.
But don't overdo it. Although brushing is key to keeping your mouth healthy, too hard and too often can damage your gums and lead to recession. A little "elbow grease" may be appropriate for other cleaning tasks, but not your teeth—use gentle strokes and let the mild abrasives in your toothpaste do the main removal work. And avoid brushing more than twice a day.
See your dentist regularly. Your personal care efforts are a major part of preventing gum recession, but you can greatly increase the effect with professional dental care. That's because with even the best hygiene practice infections and other gum problems can still arise. You may also have inherited thinner gum tissues from your parents that increase your disease risk and bear closer monitoring.
Act quickly at the first signs of disease. Gum disease is a progressive disease, and it doesn't take long for it to become intrenched. The sooner it can be treated, the less likely you'll experience recession. So, make a dental appointment as soon as possible if you notice your gums are swollen, red or painful, or if they bleed easily after brushing.
There are ways to reverse gum recession. But many treatments like grafting surgery to regenerate new gum tissues can be quite involved and expensive. Following these tips can help you avoid gum recession altogether or stop it before it goes that far.
If you would like more information on how to avoid gum recession, please contact us or schedule an appointment for a consultation. You can also learn more about this topic by reading the Dear Doctor magazine article "Gum Recession: Getting Long in the Tooth."
By Sally Farzaneh, DMD, PC
March 19, 2020
Your mouth is a lot like the Wild West — home to millions of bacteria and other microbes, some of which are definitely not "the good guys." But your teeth are well-protected from these hostile forces and their acidic waste products: with enamel shielding the visible part of your tooth, your gums protect the parts you can't see.
As effective as they are, though, your gums aren't invincible: their greatest threat is periodontal (gum) disease. This bacterial infection arises from plaque, a thin film of bacteria and food particles accumulating on teeth due to inadequate brushing and flossing.
The infected tissues soon become inflamed (red and swollen), a natural defensive response from the immune system. The longer they're inflamed, however, the more likely they'll begin detaching from the teeth. The gums may eventually shrink back or recede from the teeth, often causing them to appear "longer" because more of the tooth is now exposed to view.
Gum recession doesn't bode well for your teeth's survival: the exposed tooth and underlying bone can become even more susceptible to infection and damage. In the end, you could lose your tooth and portions of the supporting bone.
Treatment depends on the severity of the gum recession. In mild to moderate cases, we may only need to perform the standard gum disease treatment of removing plaque and calculus from all gum and tooth surfaces (including below the gum line) with special instruments. This helps reduce the infection and allow the gums to heal and re-establish attachment with the tooth. In more advanced cases, though, the recession may be so extensive we'll need to graft donor tissue to the area using one of a variety of surgical techniques.
Although the right treatment plan can help restore your gum health, there's another approach that's even better — preventing gum disease in the first place. You can reduce your disease risk by practicing daily brushing and flossing and visiting your dentist regularly or when you see symptoms like gum swelling or bleeding. Taking care of your gums won't just save your smile — it might also save your teeth.
If you would like more information on diagnosing and treating gum disease, please contact us or schedule an appointment for a consultation. You can also learn more about this topic by reading the Dear Doctor magazine article "Gum Recession."
By Sally Farzaneh, DMD, PC
January 14, 2019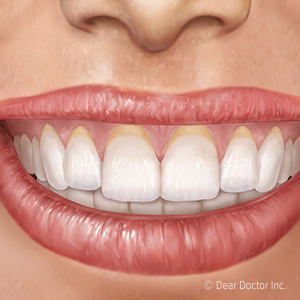 A "toothy grin" might be endearing, but not necessarily healthy. More of the teeth showing may mean your gums have pulled back or receded from the teeth. If so, it's not just your smile that suffers—the parts of teeth protected by the gums could become more susceptible to disease.
There are a number of causes for gum recession. Some people are more likely to experience it because of genetically thinner gum tissues. Over-aggressive brushing could also contribute to recession. But the most common cause by far is periodontal (gum) disease, a bacterial infection triggered by dental plaque accumulating on teeth mainly as a result of inadequate hygiene.
There are some things we can do to help heal and restore recessed gums, most importantly treating gum disease. The number one goal of treatment is to uncover and remove all dental plaque from tooth and gum surfaces, which can take several sessions and sometimes minor surgery if the infection has reached the tooth roots. But removing plaque and tartar (calcified plaque) is necessary to stop the infection and allow the gums to heal.
For mild recession, this may be enough for the gums to regain normal coverage. But in more severe cases we may need to help rejuvenate new tissue with grafting surgery. In these highly meticulous procedures a surgeon uses microscopic techniques to position and attach donated tissue to the recession site. The graft serves as a scaffold on which new tissue growth can occur.
While these treatments can be effective for reversing gum recession, they often require time, skill and expense. It's much better to try to prevent gum recession—and gum disease—in the first place. Prevention begins with daily brushing and flossing to prevent plaque buildup, as well as regular dental visits for more thorough cleanings. Be on the lookout too for any signs of a beginning gum infection like swollen, reddened or bleeding gums and see your dentist as soon as possible to minimize any damage to your gums.
Caring for your gums is equally as important as caring for your teeth. Healthy gums equal a healthy mouth—and an attractive smile.
If you would like more information on preventing gum recession, please contact us or schedule an appointment for a consultation. You can also learn more about this topic by reading the Dear Doctor magazine article "Gum Recession."